So...Tinkoff-Saxo´s cyclist Alberto Contador won La Vuelta de España this year, followed by Sky´s Christopher Froome and Movistar´s Alejandro Valverde, respectively. I traveled to Galicia that weekend to witness the end of what had been one of the most action packed, thrilling, and intensely grueling European grand tour races of the year. Having never seen a cycling race in person, I was incredibly excited to be there for stage 21, consisting of a 9.7 km individual time trial around Santiago de Compostela. That being said, it was quite clear what the podium of the general category would be since Froome had lagged over a minute behind Contador and Valverde´s lag was over two minutes. Something unfortunate had to happen on this short race for the podium to look any different. My personal favourite cyclist for this race had become Alejandro Valverde after Nairo Quintana´s unfortunate falls on stage 10 and 11 forced him to drop out of La Vuelta. Stay strong Nairo!!
An individual time trial race is different than other races since riders are not permitted to draft (ride in the slipstream) behind other cyclists. The bicycle itself is different than a regular road bike since the handlebar is shaped in such a way that it allows the rider to put his hands and forearms closer together, a much lower and forward position, thus reducing aerodynamic drag. The whole point of the time trial races is just that, to reduce as much drag as possible, allowing the rider to cross the finish line in the least amount of time. Time trial bikes even sound different! There is something about the disk wheel or the wheel itself that makes this humming noise when a cyclists is pedaling the bike. As a cyclist enthusiast, I must admit that I am always in awe, and slightly envious, when a time trial bike comes flying past.

For this race I had positioned myself about half a kilometer away from the finish line where I was hoping to take some panning photographs of the riders as they made their way to the finish line. I set up my camera in the "Tv" and "AI Servo" modes and waited for the cyclists to pass by. I soon heard a humming noise and it was the cue for me to draw the camera closer to my face in preparation of what was about to come. As soon as I saw the cyclist come up from around the bend I started slightly pressing the shutter release button to start focusing. A second must have passed since I first saw the rider, and just like that, he was gone! I had taken a photograph, but not of a cyclist!! The end photo was a blurred out image of a street full of spectators. Cyclists were going so fast that it was quite hard for me to follow through their motion and take the photograph at the exact point in time where the rider was exactly perpendicular to me! If I was to take the panning photographs that I had envisioned, I would have to practice!!Luckily for me, the cyclists had a 3 minute lag from each other and there were plenty more that had yet to start the race. After quite a few failed attempts, I was starting to get some decent panning shots like the ones below. I hope you enjoy them!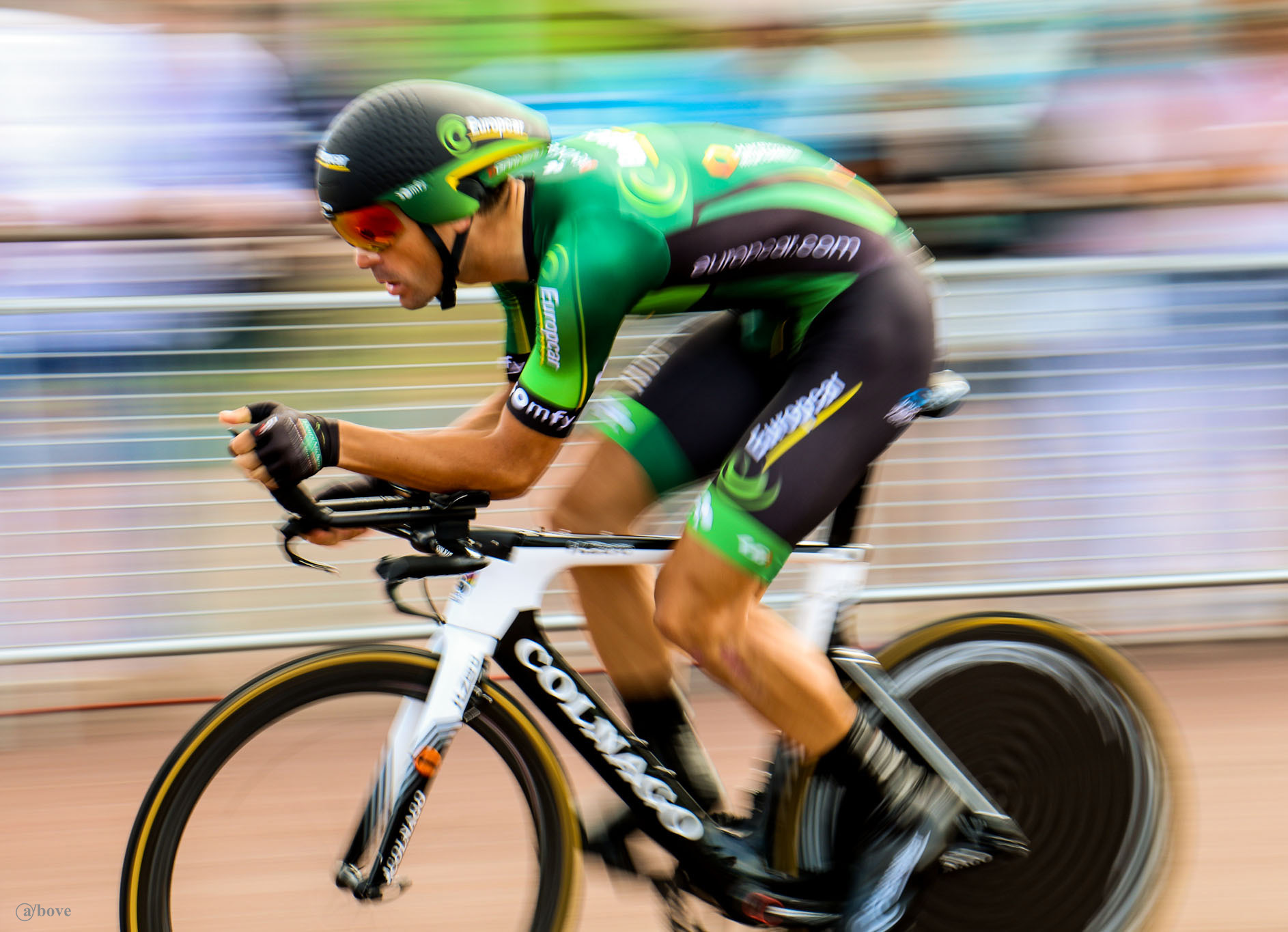 All in all, it was a great experience to witness first-hand a stage of La Vuelta de España and to practice my sports photography. Next year I plan on attending both a time trial race and a mountain stage finish and hopefully bring you better photographs of what is really a wonderful and inspiring sport.